Karie is a well-liked and accomplished designer who is well-known for her lovely lace patterns and subtle colorwork. She discussed her job with Helen Spedding.
The stylish, well-thought-out patterns, the engaging blog, and the accomplished knitting workshops of knitwear designer Karie Westermann have helped her gain recognition all over the world.
Karie, who was born in Denmark and currently resides in Glasgow, Scotland, first caught knitters' attention with her e-book "Doggerland." 2017 saw the release of Karie's first printed book, "This Thing of Paper," and she has also contributed knitting patterns to other periodicals and yarn manufacturers.

Q: 'This Thing of Paper's' release was one of our favorite moments of 2017. Could you briefly describe the development process for it?
A: "I was an academic failure before I became a knitting designer. I used to work in a topic called "print culture," and I was particularly interested in the time between the invention of the printing press by Johann Gutenberg and the widespread usage of print in Western Europe. Moveable type had been created by the Chinese, but Gutenberg had a significant influence in Europe. The production of manuscripts required a lot of labor, but printed books could be produced considerably more quickly and inexpensively. Books became more accessible, which made it simpler to disseminate knowledge. I find that transition from handcrafted to machine-made to be quite fascinating, both intellectually and practically speaking.
"My academic background was heavily cited, and my work has a bibliography. It was crucial to me that the book's tone be accurate. It had to be factual while also being understandable. Making the trip to Mainz, Germany to work with the Gutenberg Museum was one of the pleasures of my research for "This Thing of Paper." I looked through copies of the Gutenberg Bible and other books he published while being closely supervised by a guard inside a bank vault. It's quite exciting that my book ended up becoming the first knitting book in the Museum's collection. As part of my studies, I also tried printing using a reproduction printing press from the fifteenth century and made my own type.
Incunabula is a design from Karie Westermann's debut book, "This Thing of Paper," and it is a cardigan.

How did you find the process of using Kickstarter to make "This Thing of Paper" available for publication?
I was really blown away by the entire experience! I decided to launch a Kickstarter because so many people had been nagging me to do it for a while. I had no idea I would get the response and the enormous amount of support I did. It was incredibly humble. I gained some friends for life as a result of the Kickstarter.
In retrospect, there are certain things I would change. I was surprised at how easy it was to write a book and make patterns, but I've realized that for everything else, I need to seek for help. I would strongly advise any prospective authors to get assistance with the physically demanding task of distributing a book to tens of thousands of readers. I put together a fantastic team, including editors, graphic designers, a printing company, and an assistant, and I would incorporate them earlier. As we go along, we learn.
Given that Glasgow has been your home for a while, do you think your work reflects your Danish ancestry or do you draw more inspiration from Scotland and its knitting traditions?
A restricted color scheme, a minimalistic approach, and a decided lack of fuss make up the distinct Scandinavian aesthetic, which is extremely important to me as a designer and craftsperson. I appreciate simple design and can take my time deciding on the ideal off-white color. I find that my primary design vocabulary, known as "formsprog" in Danish, is distinctly Scandinavian, and I'm quite conscious of that.
However, I have lived in Glasgow for a long time, and I can say without a doubt that the city has transformed me. It is a city full of life and creativity that is rich in both architecture and art. I can spend a lot of time observing people because everyone is dressed so beautifully and uniquely. In comparison to the light in Denmark, Glasgow's light is extremely different. The former tends to have a blue or grey tint, which implies the colors lean toward the cooler side of the color wheel, whereas now that I reside in Glasgow, I work a lot with warm hues.
"I adore simple, clean lines, but I also like to experiment with bright colors and patterns. This is definitely true of my personal design aesthetic. Denmark and Glasgow are combined into one.

Do you frequently find yourself drawn to any particular design themes?
A: "Definitely. I frequently consider how we include stories into our creations and the relationship between texts and textiles (as well as how many metaphors in English that are based on textiles). I believe many of us have knit in a hospital waiting room or used knitting to get through a difficult moment by making a scarf we'll never wear. Sometimes we don't have the words to explain our thoughts, so we turn to knitting to find comfort and a method of expressing ourselves. I just repaired a cardigan that my grandmother had made for me prior to her being identified as having dementia. While I am unable to mend her, I am able to repair the garment's holes. My views on knitting, crafting, and designing are therefore preoccupied by that.
"I find lace design appealing. I find it to be really intuitive, and it is definitely my favorite thing to design. How can I prevent this lace design from being fussy or overworked? This is the constant challenge. How do I reduce it to the bare minimum? And how can I set it in a situation that enhances rather than takes away from its beauty?
Westermann, Karie Shawl in Mahy
Karie enjoys knitting lace, and her "Mahy" shawl is made using a classic Shetland hap pattern.

What do you find to be the best aspects of the knitting community?
A: "There are many lively, fascinating, and intelligent people in the knitting community! I get to interact with some of the most incredible people because of my job. Everyone is pulled to knitting for a different reason, and hearing other people's motivations is an enormous privilege. Every person I meet teaches me something new, and I also get to hear some quite intimate and moving experiences. When I get my emails, it always makes me happy to see that someone has knitted one of my patterns for a special birthday, wedding, or christening. It's quite demeaning.
It takes a lot of time to knit something, so the fact that individuals choose to use my patterns and make me a small part of their lives is meaningful.
What is the one yarn and pattern book you would select to bring with you if you were abandoned on a desert island?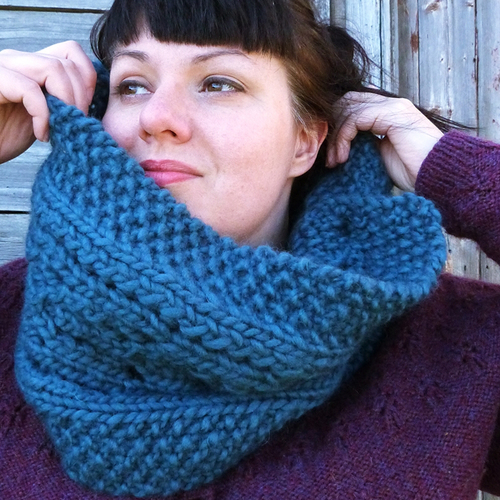 A: "I'd take a notebook, some 1ply, undyed, rustic yarn, 4.5mm needles, and a pen. Then I would create shawls with the desert island as my inspiration. In my design work, I prefer to react to environments and landscapes, so creating something special for the desert island seems like the natural answer.
What new yarns have you seen that you're excited to swatch and design with?
A: "Right now, there are two kinds of yarns that really appeal to me. First, yarns from certain farms and flocks (again, it's the storytelling component and my passion with landscapes). I just finished working with Whistlebare's Yeavering Bell, a wonderful blend of Wensleydale and their own flock of mohair. Also, I'm interested in their Cheviot Marsh. There are so many amazing little yarn manufacturers out there, and they are all doing such interesting work. Some examples include Hawkshaw Sheep, New Leaf Yarns, Lammermuir, South Downs Yarn, Croft 29, and Uist Wool.
The other kind of yarn is produced by independent dyers in the UK. There are certain dyers who create amazing, original art. Again, I have a list that is so extensive that I could fill an entire magazine simply by mentioning the fantastic dyers I have found. Brambles & Me, Mint Bee, Ducky Darlings, Phileas Yarns, River Knits…
Shawl by Karie Westermann in Beton Brut
In order to create her architectural Beton Brut shawl, Karie picked Walcot Yarns Opus.

Can you give us a brief description of a few of your most recent publications?
"Shawl for An Art Lover" means a great deal to me, says A. I created it for my wedding and wanted to create something that was both lovely and had significance. The theme patterns were influenced by Glasgow, Scotland, where I currently reside. The solid strip with Estonian nupp/lace stitches is reminiscent of the tenement tiles seen in Glasgow's 19th-century apartment buildings, while the delicate lace is inspired by the sinuous Art Nouveau lines of Charles Rennie Mackintosh's famous architecture. The design is titled after Mackintosh's own Glasgow residence, House for an Art Lover. Since I used to work for Rowan, I knit my own shawl in their Kidsilk Haze, and it was a lovely way to include that time in my life into the day.
"Vinterskov's design process was novel for me. I had some yarn that was "too precious to use," which I had purchased in Denmark, laying around when I realized that I needed a gorgeous, cozy jumper to get me through the winter. Normally, I work so slowly while designing, but I drafted and knit that sweater in a fortnight, and I spent the entire winter wearing it. I believe I was successful in getting a winter-appropriate sweater that wasn't a Christmas gimmick.
In addition, I had some Whistlebare Yeavering Bell 4ply in my possession and wanted to create a shawl that would highlight the yarn. This is how 'Canny Lass' came to be. One of those designs where I let the yarn lead the way. The lace is really understated, and the shawl itself is incredibly feminine. I guess it rubbed off because I was also planning my wedding at the same time.

What do you currently have on your needles?
A: "Right now, I'm wearing a gorgeous, undyed sweater. It takes a while because there is no set completion date and I enjoy using the yarn at my own pace. I can't wait to wear it next winter because it has a silhouette that's a little out of the ordinary for me.
I have a shawl made using Gamercrafting yarn as well. People don't often realize how geeky I can be too, but Angie dyes yarns that are influenced by nerdy pop culture, so we decided it would be great to try a collaboration. I do have a deadline on that one, though! It does have a story, too.
Do you have any plans you may share with us for 2023 and beyond?
A: "I just started a Patreon to give me more time to write. Writing, in my experience, aids in the crystallization of my design work, although scheduling writing time may be challenging. Therefore, Patreon users may watch The Everyday Wardrobe Project, a project I'm working on, take shape as I share longform content there.
I've also tentatively started working on my second novel. I'm working on a few ideas to see which ones will be strong enough to support a complete book (sometimes an idea will produce two fantastic designs, other times it will produce 25 good designs).
Visit www.kariebookish.net to learn more about Karie's writing.